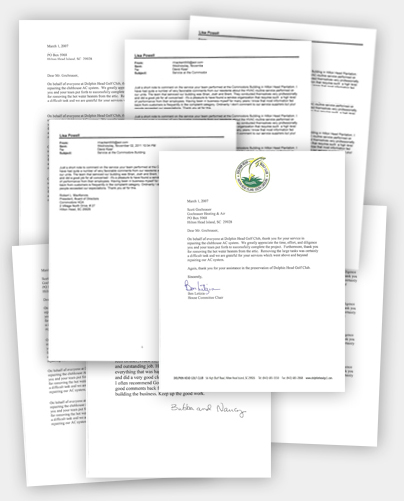 "I took five bids from five difference companies. Only Gochnauer provided me with a complete proposal in writing with specific detail related to the work to be performed. The Gochnauer proposal was on their company form which was one of the best documents for this type of work I have ever seen. Certainly in this case their proposal far outdistanced their four competitors whose proposals were on notebook paper with only a price and equipment depicted. The Gochnauer proposal covered the complete installation including checking on duct work. None of the others would commit to checking on the duct work. All indicated they only installed the units. Gochnauer not only checked the duct work, they repaired leak and replaced a duct pipe that had been improperly installed when the house was built. When the work was completed their two installers explained the workings of the new equipment and cleaned up the work area perfectly. They scheduled a follow up with an individual who came out a week later and did a complete inspection of the work performed including checking the efficiency of the entire installation having to climb into the attic to do so!
In my experience of numerous career related moves in five states and having numerous residences, I have never been involved with a better company. Gochnauer is a company worth emulating. In the future I hope their emergency call out service is as good as their installation work."
****
"I would like to commend you and your organization for the installation of my Trane HVAC system. From the time I contacted your office with a request for an estimate until last night when the quality check was performed I was impressed with the quality of work and the professionalism displayed by your team. This includes the technician who came out and told me what I needed, answered my questions and gave me expert advice. Also, the installation team that worked non-stop for about 7 hours doing the actual installation including re-routing some of the existing ductwork. Finally, your senior technician, did an outstanding job adjusting the dampers thereby balancing the system.
Your entire team displayed a level of courteousness and professionalism not very often seen in a service organization. Congratulations! You did a great job.
If you ever need a reference here in Sun City, please feel free to call on me. I would be more than happy to relate my story to others. I will definitely recommend you to my friends when their need arises."
****
"We are always impressed with our technician when he does his work at his house."
****
"After much discussion and decision, we have recently had a new air conditioner installed in our home. We called several companies for quotes, 4 in all, with different remedies suggested to us. Each seemed to know their business, but left us confused as to what to do. This was until the Gochnauer technician came and talked with us. He was patient, knowledgeable and made so much sense explaining in detail his proposal. We accepted that proposal and we are so glad we did. Gochnauer did an excellent job. They did what they said they were going to do, kept in touch with us to be sure we were happy and our electric bill has gone down $100 a month to boot!
Our neighbor went with another company and they are having so many issues…….Don't do it!!! Go to Gochnauer…. They are the greatest."
****
"Thank you for forwarding the renewal contract. We have been very happy with the service we have received from your company. We will be happy to renew the contract. Thank you for your ongoing service."
****
"The technician came out twice yesterday and he was an absolute PLEASURE to have at their house. He was very polite and just so happy! … he was the happiest, most polite, gentle soul."
****
"Thanks so much for having our tech come out during the holiday weekend and getting his ac fixed. He was a very sweet man , very professional , very well mannered and a great example of the work gochnauer promises. He said he called, and we delivered!"
****
"Many thanks for a job very well done.
We were pleased and very impressed with the work Gochnauer did for us. Our house's entire air conditioning and heating system was in terrible shape. It presented a complex challenge requiring expertise that went far beyond simply replacing old equipment. The system had to be examined and , analyzed and then re-sized, redesigned, reconfigured, and rebuilt. Gochnauer's team designed a major overhaul of the entire air conditioning system. They presented a plan for a two stage project which would spread the cost over time and would retain as much of our present equipment as possible The first stage was completed on time, on budget, neatly, professionally, and with minimal disruption to those living in the house. The results have been even better than expected. They did a terrific job rebuilding a very badly deficient system.
Our thanks and appreciation to everyone who participated in this job. We would enthusiastically recommend Gochnauer to anyone contemplating work on their A/C system."
****
"I wanted to let you know what a great job your installation crew did. They worked hard all day, thru the rain, were very polite, and cleaned up after themselves.
Thank you!"
****
"Just a short note to comment on the service your team performed at the Commodore Building in Hilton Head Plantation. I have had quite a number of very favorable comments from residents about the HVAC routine service performed on our units. The team that serviced our building was Brian, Josh and Brent. They conducted themselves very professionally and did a good job for all concerned – it is a pleasure to have found a service organization that requires such a high level of performance from their employees. Having been in business myself for many years I know that most information fed back from customers is frequently in the complaint cagey. Ordinarily I don't comment to our service suppliers but your people exceeded our expectations. Thank you all for this."
President, Board of Directors | Commodore HOA
****
"John and I just wanted to let you know again how much we really appreciated all that your staff did in helping us. … John was a little surprised but really pleased with the courtesy and professionalism your technicians showed and gave him as they installed the system in our house. He still talks about it. And I especially wanted to thank you for taking the extra time and efforts to work with the finance company on my behalf and in getting us the best deal."
****
"I have told you in the past how we appreciated the good service from the company. I just had to let you know how pleased we are with the replacements and those involved with the project. As you know it was not an easy job. … I often recommend Gochnauer to friends and have only received good comments back from them. You have done a great job building the business. Keep up the good work."
Gochnauer Air Conditioning & Heating
April 13, 2017
2020/01/23